---
OF BRANCHVILLE, NEW JERSEY
---
CHURCH INTRODUCTION

First Presbyterian Church of Branchville, established in 1820 in the northwestern section of New Jersey known as "The Skylands," has a long history of serving the community and the world in the name of Jesus Christ. Worship is offered Sunday mornings at 10:00 a.m., with Sunday School and a nursery at the same hour. Adult education offerings are offered at a variety of times throughout the year. The church is located on Rt. 519 (Wantage Avenue) in the heart of Branchville.

Come visit, worship, chat, and have some refreshments with us, and you just may feel that you've found a new church home. We hope so.

Our newly adopted Mission Statement:

"Our mission is to gather as a church family for worship and spiritual fellowship, to nurture and educate, and to proclaim the gospel to the world."

-Dr. Jefferson Hatch, Pastor
---
Our Mission Statement
Our mission is to gather as a church family for worship and spiritual fellowship, to nurture and educate, and to proclaim the gospel to the world.
---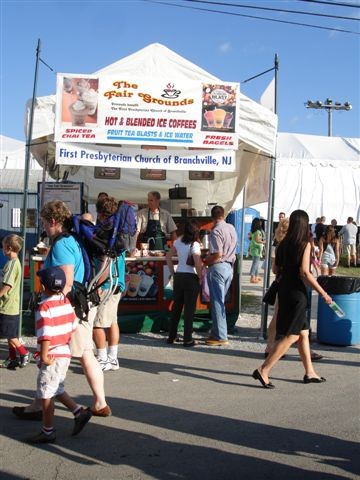 Our Presence at the State Fair
Again this year we are selling hot and cold drinks at the New Jersey State Fair in our coffee booth: The Fair Grounds. Approximately 75 people volunteer throughout the week, along with all the work that goes into setting the booth up and taking it down, the signs, the inventory, etc. All in all we have a fun time together and raise some funds for the church's ministries at the same time. It's a win-win situation!
---
Thank you...
for stopping by our church home webpage, but why not stop by the actual church building sometime? If you are church shopping, come try us on for size. If you would like to talk to someone about your relationship with God, your life, or just to chat, give us a call or drop us an e-mail. Try us on for "faith size" - we just might be a good fit!
Copyright 2008 by Jefferson Lee Hatch-all rights reserved.