</P>
---
FIRST PRESBYTERIAN CHURCH OF


BRANCHVILLE, NEW JERSEY
---
First Presbyterian Church of Branchville, established in 1820 in the northwestern section of New Jersey known as "The Skylands," has a long history of serving the community and the world in the name of Jesus Christ. Worship is offered Sunday mornings at 10:00 a.m., with Sunday School and a nursery at the same hour. The church is located on Rt. 519 (Wantage Avenue) in the heart of Branchville. Come visit, worship, chat, and have some refreshments with us, and you just may feel that you've found a new church home. We hope so.
-Dr. Jefferson Hatch, Pastor
Inspirational Thought:
"The joyful news that He is risen does not change the contemporary world. Still before us lie work, discipline, sacrifice. But the fact of Easter gives us the spiritual power to do the work, accept the discipline, and make the sacrifice."
-Henry Knox Sherrill
---
Go to:
a listing of church staff members
information about the pastor, Dr. Jefferson L. Hatch
information about worship times and special services
information about the church office
the Presbyterian Church (USA) homepage
---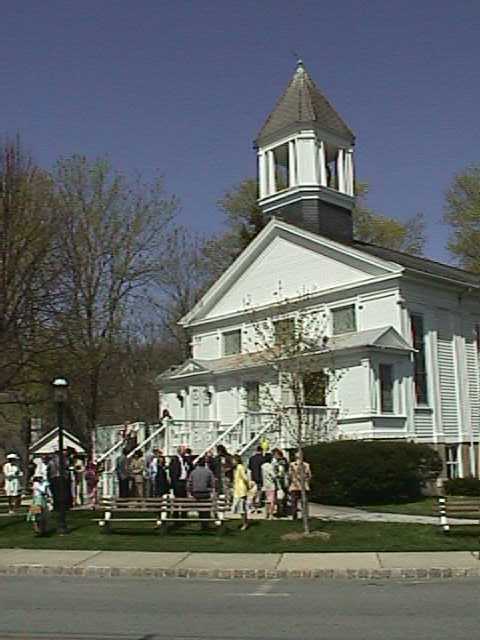 Dr. Jefferson L. Hatch - Pastor
Ms. Gina Fiedler - Secretary
Mr. Jack Kuehl - Organist
Mrs. Kay Hatch- Interim Music Director
Ms. Patti Wills - Interim Handbell Choir Director
Mrs. Cyndi Stumpf & Mrs. Barbara Hardcastle - Sunday School Superintendents
Mr. Art Buehrer - Treasurer
Mr. Ron Harrigan - Custodian
---
Every church claims to be friendly, but through our times of fellowship, our outreach, our large Sunday School for children, and warm worship we have proven ourselves to be the kind of church that people take to quickly. We have approximately 235 members, and a very large and active Sunday School program with enrollment of about 100. Various fellowship and service groups are offered:
The Daisey Roe Chain fellowship group for women
The Friendship Circle fellowship for women
A Youth Group for young teens in 7th-9th grade that meets regularly for Sunday School discussions and bi-weekly for social and service activities
A Confirmation Class for those in 8th & 9th grades (every other year)
A Handbell Choir for adults and children
The Chancel Choir for adults
A Sunday School Choir for children
An Adult Bible Study that meets Sunday evenings in Lent and at other times throughout the year
Deacon sponsored potluck suppers and social events
Family Life Committee sponsored events like our recent trip to "Noah" at the Sight and Sound Stage in Lancaster, PA, and our upcoming trip to a Yankees' game in August.
---
We follow the basic ordering of the Reformed Tradition (going back to John Knox in Scotland and John Calvin before that in Switzerland) for regular worship at 10:00 a.m., but we like to vary our services regularly, and offer the following special worship opportunities:
A Greening of the Church the second Sunday in Advent
A Family Christmas Eve service held early, with a story for the children, at 4:00 p.m.
A Candlelighting Christmas Eve service held later at 7:30 p.m., with full Chancel Choir participation
A Laity Sunday in the winter
A Tenebrae service during on Maundy Thursday of Holy Week that includes communion
A Family Easter morning service at 9:00 a.m., a balloon lift-off at 10:00 a.m. (environmentally safe), and a full Easter worship service at 10:30 a.m.
A Music Sunday near the end of the church year (usually May or June)
Jeans Sunday over Memorial Day weekend (where we meet on the church lawn for a brief service, and then use the rest of the time to work on the landscaping - in our jeans!)
An outdoor worship service in the summer at a nearby park
Rally Day Sunday in the Fall with special activities for the children -- first Sunday after Labor Day
The Lord's Supper observed the first Sunday of each month
Family Sunday with a Jr. Sermon the last Sunday of each month
---
Our office hours are 10:00 a.m. to 1:00 p.m. Monday through Friday. The pastor or secretary may be reached in the office at
(973) 948-3495
(call for a fax number - we have to turn the fax modem on to receive)
The pastor's e-mail address is:
jlhatch@ptdprolog.net

Our address is:

First Presbyterian Church


P.O. Box 1
3-5 Wantage Avenue
Branchville, NJ 07826-0001
---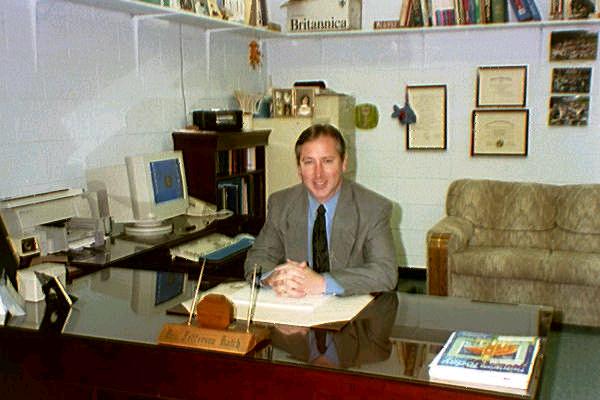 Dr. Hatch in his church office

Jefferson Lee Hatch

was born in Alexandria, Virginia. He graduated 3rd in his class from Edison High School in Fairfax County, Virginia, in 1975, and received his Bachelor's degree from Lebanon Valley College in Annville, Pennsylvania, with a double major in Religion and Business Administration in 1979. He received his Master of Divinity degree from Princeton Theological Seminary in Princeton, New Jersey, in 1983 and his Doctor of Ministry in "Marriage and Family Ministry" from Eastern Theological Seminary in St. Davids, Pennsylvania, in 1994. Jeff served First Presbyterian Church of Mount Clemens, Michigan, as Intern Pastor for one year ('81-'82), Westminster Presbyterian Church in West Chester, Pennsylvania, as Assistant and then Associate Pastor for seven years ('83-'90), and has been Pastor at First Presbyterian Church in Branchville, New Jersey, since 1990.

Jeff is married to Kay Lynnette (King) Hatch, originally of Johnstown and Morrisville, PA, who teaches music in a public school part-time, teaches Kindermusik classes, gives piano lessons, and is the Interim Music Director at the church. They have two sons, Scott and Bryant who are in 6th and 4th grade.
---
Thank you


for stopping by our church home page, but why not stop by the actual church sometime? If you are church shopping, come try us on for size. If you would like to talk to someone about God, your life, or just to chat, give us a call or drop us an e-mail. Try us on for "faith size" - we just might be a good fit!
---
Jeff also belongs to the WIG Gaming Clan (Worldwide Internet Gamers) to participate in team internet games. For further information on this motley band of gamers, click the logo above. Jeff goes by the name =Cheetah=[WIG].
Copyright 2002 by Jefferson Lee Hatch-all rights reserved.